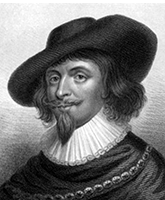 George Jamesone

- Scotland's first eminent portrait painter, frequently described as "The Scottish Van Dyck." Legend has it that George studied under Paul Rubens in Antwerp, Belgium, although there is no proof of that. George was prolific and painted portraits for many of the most important people in Scotland and England, during his time in the first half of the seventeenth century. Many of his works can now be found in most of the major museums throughout all of the United Kingdom as well as in Europe.
George Jamesone was born about 1587 or 1588, in Aberdeen, Scotland, to Andro and Mariore (Anderson) Jameson. He was most likely the third child, and second son,[1] of apparently five children. George's father was a Stone Mason and Architect,[2][3] as was his grandfather, William, before that. The family lived at Stonehill, in central Aberdeen, where George attended school while young and is thought to have had further education at Merichal College. George completed an apprenticeship under the tutelage of his uncle, John Anderson, who was a well known decorative painter in Edinburgh at that time. It is widely said that George then went to Antwerp in Belgium, where he studied painting, possibly under Rubens. It is also said that he was there at the same time as Van Dyck, to which he is often compared. He returned to Scotland about 1620, whereafter he was known for painting portraits of mostly local scholars and academics from Aberdeen's colleges. In 1633, he painted a portrait of the Scottish King Charles I, for which it is said Charles was so pleased with the result that he gave Jamesone a ring off his own finger as a reward.[4] After that, Jamesone's notoriety and prominence rose considerably and he found himself in demand throughout all of Scotland. He went on to paint portraits of many of that country's gentry, with many of these works now to be found in the National Gallery of Scotland and many other prominent public and private collections.
George Jamesone married Isabella Tosche, in Aberdeen on November 12, 1624.[5] Together they had eight known children, five sons and three daughters. These were very difficult and turbulent times, especially in that part of Scotland. Only his oldest and youngest daughters, Marjorie born in 1629 and Mary, born in 1644, the year George died, are known to have survived to adulthood. Mary was blessed with artistic talent, some of her work has survived to this day.
The circumstances of George Jamesone's death are not known, apart from that he had died before December 11, 1644. He was almost certainly in Aberdeen in July of 1644 for the birth of his youngest child Mary. In mid September, during the Scottish Civil War,[6] the Earl of Montrose,[7] who had become a Royalist, invaded Aberdeen, which by then had been forced to accept the Covenant, and his merciless highlanders slaughtered every man woman and child they found on the streets and all the men they found in the houses. Family tradition holds that George Jamesone, perished during the massacre.[8]
---
Y-DNA test, associated with this family, #: None Known
---
Y-DNA Analysis - George Jamesone, had several children although only his oldest and youngest daughters are known to have had any descendants from this family. Therefore, it will be necessary to find any descendants of yet unknown collateral relatives of this George or his ancestors. Because we don't know who that might be, any DNA analysis of this family cannot presently be done.
---