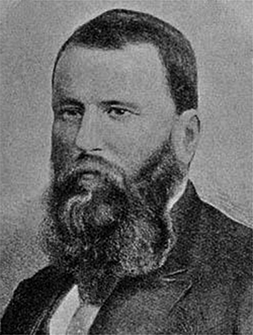 John Jamison

- Prominent physician, landowner, banker, sportsman, politician and public figure, who ended his successful and decorated naval career in mid life, immigrating to Australia after inheriting his father's vast property, where he began an influential and illustrious new life.
Jamison was born in 1776, in Carrickfergus Parish, County Antrim, Ireland,[1] the son of Thomas and Rebecca Jamison. He is thought to be the eldest of three children. His grand parents were William and Mary (Fisher) Jamison, of County Down, Ireland. He was educated at the University of St. Andrews (M. D. 1808).[2]
John Jamison grew up in Ireland, and served in the Royal Navy in 1799 and served under Admiral Lord Horatio Nelson aboard the Agamemnon, at the Battle of Trafalgar in 1805. It is said that he attended Lord Nelson's wounds on the 'Victory' during that Battle. In 1806, he saw further action at the Battle of San Domingo on the same vessel. While serving with the Royal Navy's Baltic Fleet in 1807 - aboard the hospital ship Gorgon - he was successful in treating an outbreak of scurvy in the allied Swedish Navy, and was made a knight of the Order of Vasa by a grateful Swedish king. He was also knighted by Britain's Prince Regent (afterwards King George IV) in May 1813, and subsequently appointed Inspector of Naval Hospitals and Fleets.[3]
Jamison emigrated to Australia in 1814 in his late thirties when he was named as the sole heir to his fathers estate. He was Australia's first titled free settler and as such, prominent in his new and developing country's social and political circles. In 1817 he was one of the founders of the Bank of New South Wales, and asked the British government to appoint him a member of any proposed colonial council.[2]
Jamison fathered a number of illegitimate children by several mistresses. These mistresses included Mary Griffiths - the daughter of Regentville's dairyman. Jamison married Mary a few months before his death, thereby enabling her to be styled Lady Jamison.
---
Y-DNA test, associated with this family, #: 768460
---