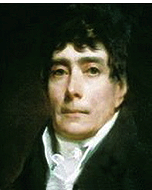 John Jameson

- An influential lawyer and businessman, who was born, raised and lived in Alloa, Scotland, north and a little west of Edinburgh, where he was Sheriff-Clerk and writer to the Signet, who married into the Haig, Stein and Philp families, all distillers and brewers. John is however, best known as the family patriarch of the Jameson Irish Whiskey Company, in Dublin, Ireland.
John Jameson was born October 5, 1740[1] in Alloa, Clackmannanshire, Scotland, the son of William and Helen (Horne) Jameson.[1] Not a lot is known about John's ancestors, except that there were several Jameson and Jamesone families in that area of Scotland from at least the latter 1500s, some of whom we know from which he is descended. He married Margaret "Peggy" Haig on September 12, 1768, in Alloa[2]. She was born December 7, 1752, also in Alloa,[3] the daughter of John and Margaret (Stein) Haig.[3] John and Margaret had seventeen known children, all apparently born in Alloa. Ten of these children are known to have lived to maturity.
John Jameson was a writer to the Signet[4][5] and starting in 1765, Sheriff-Clerk of Clackmannan, an important and influential position he maintained until his death in 1823, whereafter his son Robert succeeded him. After that, his nephew Andrew Jameson took over that position (1842-1872).[6]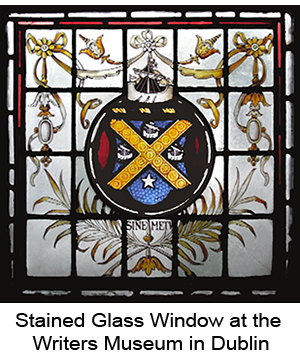 John Jameson founded the Jameson Whiskey Company in Ireland, after having taken over the Bow Street distillery in the Smithfield area of Dublin, in the late 1700s, originally owned by the Stein family, specifically those from his wife's mother's family. John, who insisted on unusually high standards and innovation, took what was a relatively small operation to a leading Irish distillery, before he died in the early 1820s. His sons and descendants continued improving and expanding the business until it was a leading world producer when it was eventually sold to an international conglomerate in 1971.
John and Margaret had a large family, with many descendants, an unusually large number of which were prosperous and successful, some titled, some illustrious, and many prominent. There were international leaders, prominent politicians, many distinguished and decorated military leaders, scientists of note, educators, explorers, missionaries and even famous inventors and businessmen, such as the Guglielmo Marconi[7] the man behind long distance radio transmission. There were also celebrities, some say possibly even the circus Wallenda's.[8]
Margaret Jameson died January 19, 1815 in Alloa and her husband, John Jameson, eight years later on December 3, 1823 also in Alloa. Both John and Margaret are buried at Alloa Churchyard - Greenside Cemetery.
---
Y-DNA test, associated with this family, #: 311680 (dd), 496098 (dd)
---
Y-DNA Analysis - John Jameson was a part of an old and long established Jameson family who had been living for at least four previous generations in the Alloa area of Clackmannanshire, Scotland. John himself had a large family with seventeen children, most of whom lived to maturity and who collectively left many descendants. So far, there are two known direct descendants of this family who have been Y-DNA tested. Both tests are a match and in the "I" Haplogroup, testing positive at SNPs - M170 and M253. This is a fairly broad and old haplogroup with many, many people, so further deep SNP testing should likely show a more selective and meaningful terminal SNP Haplogroup designation. These two matching 37 marker YDNA tests are from different branches of the family and as such, by way of triangulation, can only have John (1740-1824) as their nearest common ancestor, thereby proving him as well as each direct male descendant between him and that person tested. These two tests however, do not yet directly match any other Jamesons tested, although they are close enough to several other Jamesons tested to suggest an earlier unknown family relationship existed, probably many generations and hundreds of years earlier.
The good news is that anyone doing a minimum 37 marker Y-DNA test can determine if they themselves are in the general category necessary to have any chance of also being a descendant or relative. Beyond that, one may need to test for specific SNP in order to see if there is any closer relationship. To find out more, or to join the Jameson Family YDNA Project and order a Y-DNA test - we recommend the Y-DNA37 test - please go here.
---
Footnotes/References
[1] Actual date of birth is unclear. There is a Alloa Parish Record (facsimile here) that lists October 5, 1740 apparently as the date of Baptism. At that time, Baptisms were generally done as soon as possible, making his actual birth likely only a few days earlier.
[2] Alloa Parish Marriage Record (facsimile here).
[3] Alloa Parish Birth Record (facsimile here).
[4] Burke's Landed Gentry (1894), Vol. I - Sir Bernard Burke, Ulster King of Arms, (London, England: Harrison and Sons, 1894) - p.853
[5] Society if Writers to the Signet
[6] The Sheriffdom of Clackmannan" a sketch of its history.. - James Wallace - 1890, p.63+
[7] Guglielmo Marconi was the son of Giuseppe and (Anne Jameson) Marconi, daughter of Andrew Jameson, Granddaughter of John Jameson
[8] Englebert Wallenda, married Kunigunde Jameson, daughter of Henry Jameson, though to be a descendant of John Jameson - more here
---
[a] DD=direct descendant; CD=collateral descendant - each with credible traditional references and support.
---
Bibliography/Resources: