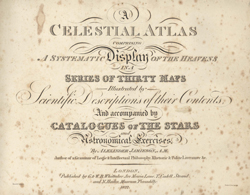 Alexander Jamieson

- Was a Scottish writer, school master and actuary who may be best known, as author of the "Celestial Atlas" in 1822, a collection and description of stars in the sky. He was born and raised on the Island of Bute, in Scotland, later living and working mostly in London, England, eventually dying in St. Croix, Bruges, Belgium.
Alexander was born September 5, 1782 in Rothesay, Bute, Scotland, The first child and eldest son of William and Margaret (Stewart) Jamieson, a wheelwright. Little is known of his ancestors or larger family, although the Jam?sons of Bute are generally thought to have been descendants from early Scottish royalty. Alexander is assumed to have grown up on Bute and would have had his early education there as well. He obtained MA and LLD degrees from Marischal College, Aberdeen, in 1821 and 1823 and in 1825 he became a mature student at St John's College, Cambridge. However, there is no record that he ever resided there or obtained any degree. In fact, he seems to have spent most of his working life in and around London as a writer, teacher and finally an actuary. In 1826 he became a member of the Astronomical Society of London.
Jamieson was active in the period 1814-46 writing textbooks and running a school. In 1824 it was teaching at Heston House on Hounslow Heath, where some Hindustani was on the syllabus. From 1826 to 1838 it was at Wyke House Academy in Middlesex, which was advertised as a preparation for the Army, Navy, civil engineers, architects and surveyors. Among his pupils there was George Windsor Earl; John Rouse Bloxam also taught there. Jamieson was the author of two highly successful grammars: A Grammar of Rhetoric and Polite Literature (1818, at least 53 American editions) and A Grammar of Logic and Intellectual Philosophy (1819 and at least ten American editions). The former drew on Hugh Blair's Lectures on Rhetoric and Belles Lettres, and the Philosophy of Rhetoric of George Campbell, of which Jamieson published an abridgment in 1823. Jamieson also abridged the Elements of Criticism by Lord Kames.
Of all Jamieson's many publications, it is his Celestial Atlas' that are best remembered. By the time it first appeared Jamieson was evidently well connected for he obtained royal approval to dedicate it to the king of England, George IV. Two editions were produced in rapid succession, one dated February 1822 and the other September 1822.
Jamieson was declared bankrupt in 1838. He then worked as an actuary. Towards the end of his life he suffered a stroke, after which he moved to Bruges in Belgium with his wife Frances (Thurtle), known as a writer, whom he had married in 1820. She was the author of the relatively successful Ashford Rectory; or, The Spoiled Child Reformed. Containing a short introduction to the sciences of architecture and heraldry.... He died in Bruges in 1850. Frances returned to London, where she died in 1870.
---
Y-DNA test, associated with this family, #: None Known
---
Footnotes/References
---
Bibliography/Resources:
Celestial Atlas - Alexander Jamieson
Oxford Journals - Alexander Jamieson, celestial map maker - Ian Ridpath - Astronomy & Geophysics (2013), vol. 54, pp. 1.22-1.23.
Akchetron - Alexander Jamieson
Eizabeth Dolan - Manly, Queensland, Australia
Fiona Colbert - St. John's College, Cambridge